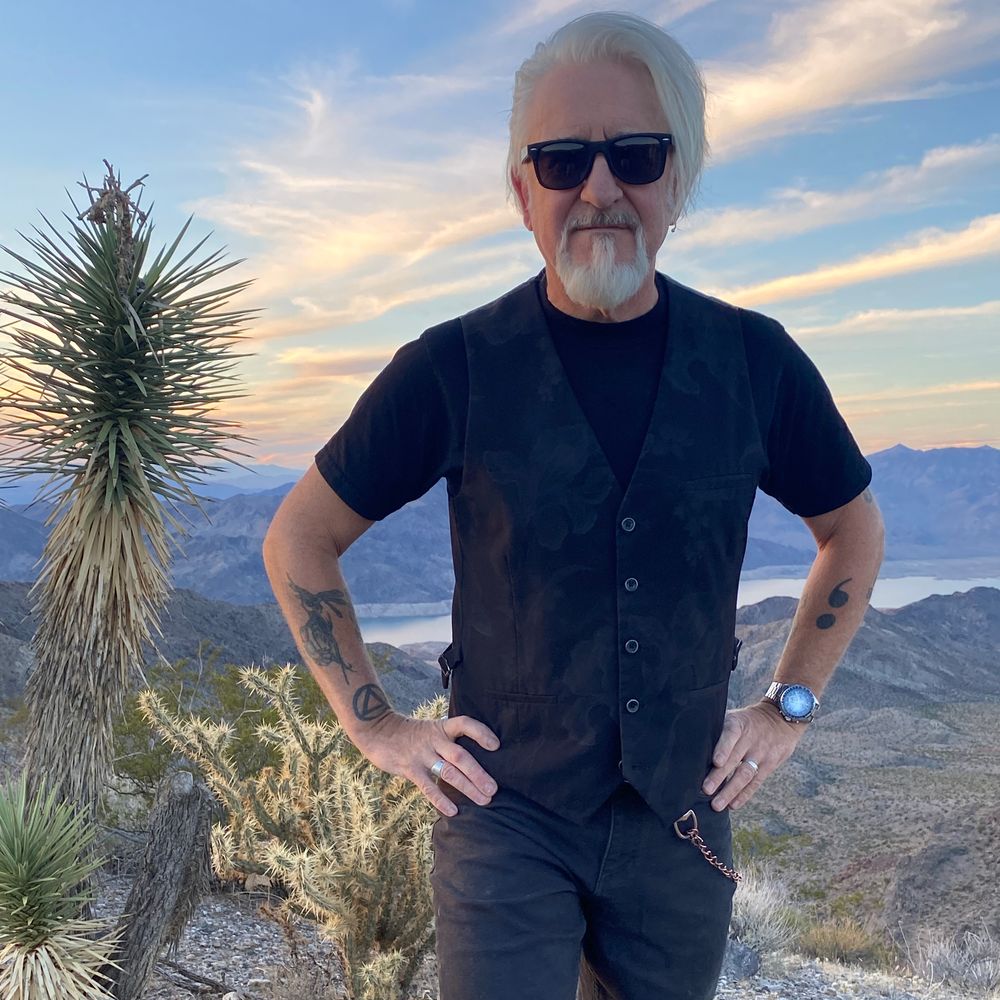 Kevin Arizona is a storyteller that will bring you into his world with his distinctive voice, accomplished guitar work and polished arrangements.
As an entertainer Arizona has the ability to make his audience feel they are a part of the show, in the story, and part of his world.
KAZ started his mortal and musical life in a small mining town in northern Manitoba Canada.
A large part of who Arizona is an artist, is telling the stories of his life. It is important to KAZ to be honest about who is and where he came from. As a young teenager he found the thrill of live performance and the rush of recklessness that led to years of addiction. A battle that KAZ wins every day.
Many defeats, heartaches and triumphs can be heard woven into a Kevin Arizona Song.
At age 15 KAZ met a 16-year-old singer a friend to the end best pals to this very day. Over the years the two would write countless songs, tour and open for bands like Steel Macleod and Prisoner, Jerry Doucette, Harlequin, Trooper, Darby Mills, Enuff z'nuff and many more. By honing their craft and chasing their dream Arizona found himself playing in storied venues:  Vancouver's Town Pump, The Commadore Ball Room, 86 Street and more.
With time and years comes changes in lifestyle and for some even a change in musical sound. After releasing three singles, Who Cares, Bored and Young and Queen on Top to Canadian radio, and taking a run within the Country Music scene, KAZ found himself at a musical crossroad. No longer a young rock n roller, but not a "cowboy", Kevin felt he had much to say but was at a loss as for a musical genre to express himself.
Summer of 2022!! A new chapter opens for Kevin Arizona. After long conversations and shopping some music, he had written to some folks he knew in the music industry, a beautiful new door was opened for KAZ… the door to Americana. KAZ now had a new passion, a new drive to share and weave a story, from the adventures of his own life, now complete with his wife Lori and grown daughters.
Within this genre KAZ has the freedom to take the listener on the journey he is singing about. KAZ has taken Americana and made a perfect blend of his old rock n roll ways, and the country storyteller inside him. Some have noted a "Dillon-esq" quality to KAZ. Not only are Kevin Arizona songs filled with catchy hooks and great melodies, but they are also true-life tales that most listeners can relate to.
Kevin and his wife Lori now split their time between Alberta and their home in Arizona. Currently KAZ is just finishing the final touches to a four song EP he recorded, mixed, and mastered at Bucket Brigade Studio. With his new management partner, he plans on sending out his first single Crazy Town to international radio winter 2022, followed by hitting the road in Canada starting in Spring 2023.
With his new single Crazy Town, KAZ has hit his stride with an organic Americana Sound.
Crisp Production, tight guitars, signature vocals and of course "The Story'!
2023 KAZ will release the Crazy Town EP and take his music down every road.
"At the end of the day we serve the song, The Story is King".
KAZ
Gigs of Note:
Town Pump
Commodore Ball Room
Country Music Alberta - Songwriter Round
Opener for Chris Henderson - Saskatchewan Country Male Artist of the Year
Calgary Stampede - Windows on the West Stage
Strathmore Stampede - Main Stage
Southern Alberta Music Festival
Countless Bars, Cabaret's, Honky Tonks, Festivals